Making the Connections - Beyond Barriers:
Identifying conditions for embedding effective public involvement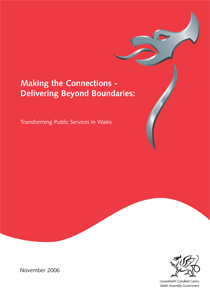 This was a major policy-related study commissioned by the Welsh Assembly Government (WAG) to support the development of citizen-centred services in local government and health services.
ORS used the three case studies in different areas of Wales to identify the institutional, economic and social barriers to effective public engagement in Wales in the health and local government sectors. We also sought to move from the negative to the positive by identifying the necessary conditions for embedding effective public involvement in health and local government services.
The project began with an extensive literature review about the meaning and conditions for involvement and then consulted a wide range of public bodies and active citizens in Wales about why and how the public should be involved; the barriers to effective involvement and the conditions for overcoming them; and the role of WAG in facilitating progress.
We undertook in-depth telephone interviews with Council officers, community representatives and the voluntary sector and also held "Roadshow-style" consultations across Wales. We included all the equalities streams (including the disabled, a range of ethnic groups, and representatives from the spectrum of age, gender and sexuality). Focus groups were undertaken in each of the three study areas (one with officers and one with citizens) to give an insight into the issues specific to the case studies.
The study showed that not everyone will take an interest and become involved, so there will not be an equality of outcomes – but the opportunities and absence of barriers matter. In judging whether involvement is real in practice, we should have regard to the balance between opportunities and take-up.
The review identified many barriers to public involvement, including: negative attitudes towards public involvement; limited resources/training/capability; conflicting imperatives; and lack of partnership working. It also classified the necessary conditions for public involvement.
Our report of over 80,000 words – together with a concise Executive Summary - provided WAG and its local government and health service partners with clear recommendations for ways forward.