East and North, and West Hertfordshire Primary Care Trusts:
Public Consultation on Hospital Re-configuration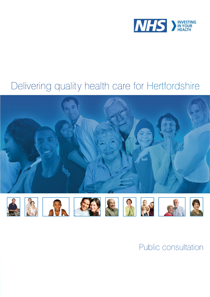 ORS has worked with the Hertfordshire Public Engagement Partnership (PEP) since July 2007. The partnership is made up of the County Council, ten districts authorities, the Police and Police Authority, the Fire Service, and the Health Trusts.
As part of our work with the PEP, ORS was commissioned by the East and North, and West Hertfordshire Primary Care Trusts (PCTs) to undertake an independent analysis of 6,118 complex and detailed public responses to the Delivering Quality Healthcare for Hertfordshire – Have Your Say consultation, in October 2007, wherein five different proposals were put out for consultation.
The PCT had designed its own open-ended consultation "questionnaire" but was then overwhelmed by the scale and detail of the written responses received – so ORS devised a coding matrix to log, analyse, interpret and report the consultation responses. It was particularly complex because the various hospital reconfiguration options had some overlapping and interlocking aspects and people had been invited to record their reasons both for and against the options.
In order to produce a draft coding frame, initially three senior ORS colleagues were supplied with a sample of 50 random questionnaires covering all questions. These were uploaded into Computer Aided Qualitative Data Analysis Software (CAQDAS) programme NVivo 7.0 and the coding frame was developed. Each question response was analysed and coded from three main perspectives.
Balance of Opinion code
Hospital / Site code
Content code
The chart below shows the geographical variation in response rates.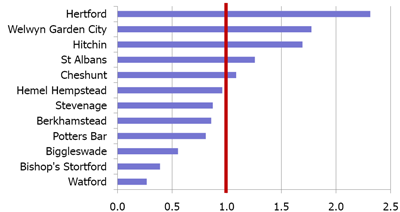 Settlements that are found below the red line had fewer people (by degree) contributing to the survey than the population as a whole (so a count of 0.5 means that half as many contributed from that settlement as per their population). Settlements above the red line were those where more people contributed to the survey than the average population (so a count of 2.0 means that twice as many people contributed from X area than from the average population). In the final analysis and report, responses were appropriately weighted by population base.
The detailed findings of this project were presented to the PCT Boards and enabled progressive decisions to be taken without fears of judicial review challenges, which earlier had looked likely.