Exeter and Torbay Strategic Housing Market Assessment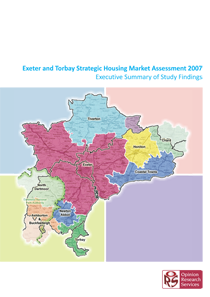 Opinion Research Services was commissioned by the local authorities of the Exeter and Torbay Housing sub-region to undertake a comprehensive and integrated strategic housing market assessment for the Housing Market Areas of Exeter and Torbay.
The study was undertaken to inform local policies, in particular relating to the housing strategy and investment programme and planning policies surrounding affordable housing provision and housing provision more generally, including the size and type of housing to be provided.
It does not seek to determine rigid policy conclusions, but instead provides a key component of the evidence base required to develop and support a robust policy framework. The study provides the basis for working together to meet the housing requirements of the sub-region as a whole.
The research was based on the analysis of 3,470 personal interviews conducted with households, coupled with a range of secondary data sources and a programme of consultation with a wide range of stakeholders.
Published documents from the study include an executive summary of the study findings, the main report for the sub-region, a supplementary report providing further technical details on the research and analysis, and summary reports for each of the sub-region's five constituent local authorities and the Dartmoor National Park Authority.
A recent South West Regional Assembly review of the ORS work for the Exeter and Torbay sub-regions concluded that:
the SHMAs clearly satisfied the relevant criteria
the SHMAs delivered good practice and innovation in relation to affordable housing strategy, migration and older persons issues
elements could be "used as best practice examples"