Derbyshire Gypsy and Traveller Accommodation Assessment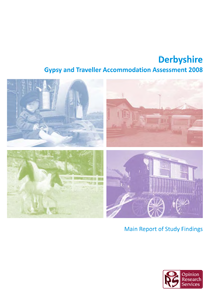 Opinion Research Services was commissioned by Derbyshire Travellers Issues Working Group (TWIG) to undertake a Gypsy and Traveller Accommodation Assessment for Derbyshire.
This study provides good evidence on current Gypsy and Traveller accommodation and future needs, and makes some recommendations based on the findings. Local authorities will themselves decide what action they should take in the light of this Study.
The research was undertaken to assess the needs of Gypsies and Travellers over the next five years, including the needs of Showmen, and covered Derbyshire County, Derby City and all of the Peak District National Park (including the area of the national park which falls outside the county boundary).
The findings are based on the analysis of 65 interviews with households resident on sites and a further 19 interviews with households living in bricks and mortar accommodation. This information was coupled with a range of secondary data sources and a programme of consultation with a wide range of stakeholders.